A perfect domain name is by definition one that is short, memorable and relevant to your website or a perfect match for your company name. For a startup or a small tech company getting one such domain name with .COM has become next to impossible because it is one of the oldest domain extensions and its namespace has become saturated at least ten years ago.
How can we resolve this lack of perfect domain name? Well, one solution is to pay an exorbitant sum of money for such a domain name to a reseller which is holding the domain or get one on a fresh domain extension. Big companies with enormous marketing budgets can afford such .COM domain name, while small companies and startups have made another choice, one that we will discuss.
Budget-oriented companies must look for an alternative. Needless to say, short (two-letter) domain extensions are a good choice because they are memorable and unique. One such domain extension has become very popular.
How did .IO domain become popular?
The main reason behind .IO popularity is that many websites can actually relate to the domain extension. In tech circles, the term input/output is also presented as I/O which is very similar to .IO and so the domain extension became a synonym for data exchange, communication or a meeting where information was exchanged.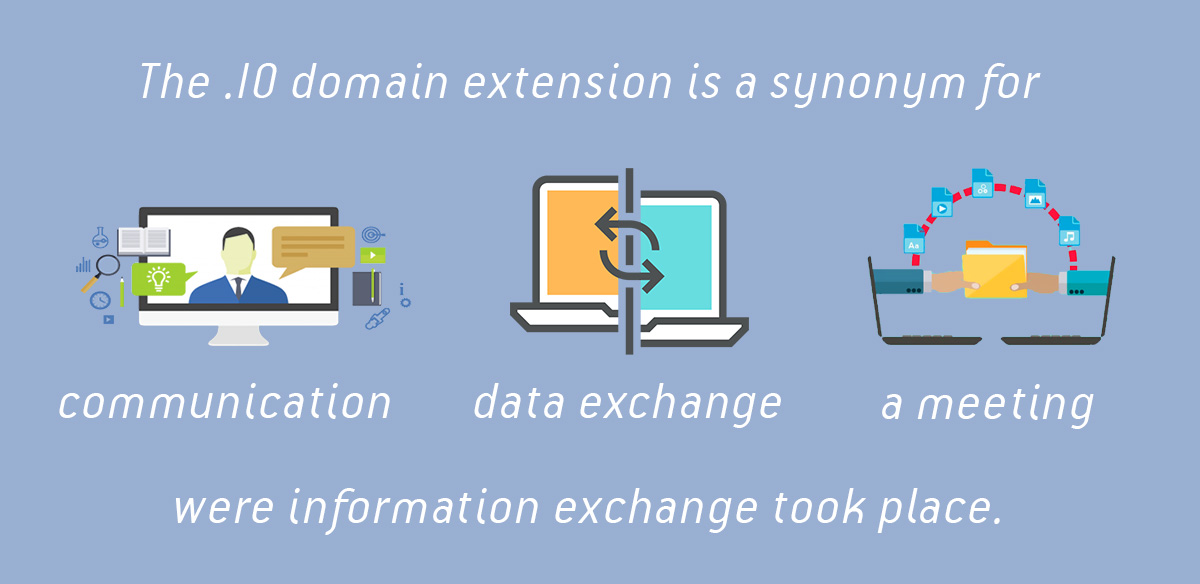 Indeed, one brisk look at the .IO domain extension will make any tech-savvy PC enthusiast recognize it as input/output acronym. This is the second reason why it is so popular – because tech companies can identify themselves with the domain extension and they become instantly recognizable.
Recognizability is the key word here. You do want to stand out from the crowd and with slew of .COM domains your .IO domain will indeed be unique and draw attention.
Why should you get .IO domain name for your company?
Next reason is availability. We all know just how saturated .COM domain namespace is, and the fact is many business or industry categories will in time have to turn to another domain extension that can provide available domain names. In the very unlikely case that your perfect .IO domain name is already registered with a reseller, you can get for a fraction of the price a .COM domain would cost you. Fact is .IO is an affordable domain name.
We have to face it, big and rich companies will get their relevant .COM domain name because for them it is a vanity item One way to express their prestige and economic power is to throw a big chunk of money on a .COM domain that will hold appeal to its shareholders.

The .IO domain name can be used for a number of clever domain name word hacks. One of the recognizable word hack domains is part of PayPal's infrastructure, card.IO that is used for card scanning technology.
Let's conclude, are you a startup?
All this made .IO domain extension very recognizable and popular with tech and startup websites. Developers and startup founders have embraced .IO as their go-to domain extension.
Investment funds and tech startups are not the only forms of a startup. Fresh ideas turned into new projects within existing companies are too. If you are starting on a new, fresh project with your company, the team that will be dealing with such work can be considered as startup of some sort, and they may need a relevant domain name which they can use to communicate their project to potential clients, locally and globally.
Search engines have become smarter and now a website that provides fresh and relevant content can outrank an old .COM domain website in a matter of months. A brave new world is rising, and .IO domain extension is a part of it.