Trading domains is a niche business, with investing that developed over the last two decades, together with the Internet.
Some of the domain investing trends which we would like to talk about have already been with us, while others are completely new this year-round.
Partial (fractional) domain ownership investing
The domains that hold the highest value sell for hundreds, thousands or even millions of dollars. The majority of people are not able to invest in such domains because of a few reasons, one being such a high price that is very similar to real estate.
Another reason that is preventing most people from investing in high-value domains is that selling a premium domain for the top price can take a while, meaning you will have to be prepared to hold onto it for an unknown period.
This is where partial (fractional) domain ownership comes into play – what if you could buy a share of such a domain?
For example, a domain name worth $1 million could be sold with shares of 1% meaning that every investor would pay $10.000 for one, while a later sale of $5 million would net the shareowner a return of investment and profit of $50.000.
Trading domain shares can also provide a means of cash out for people who want to liquidate their share and continue investing.
We can agree that 2020 might be the year when we see in place the technology, legal and tax structures required, and domain investing could become a lot more liquid this year.
Basic domain registration prices inflation?
Some experts have foreseen, all the way back from 2018, that domain registration prices will rise, as the US Department of Commerce amended its agreement with Verisign.
Every domain registrar is charged a fee for a .COM domain registration by Verisign. Naturally, if Verisign increases .COM domain registration price, the domain registrars will have to increase the price to hold on to their profit margin.
Besides .COM, .ORG domain is the next most likely to receive registration price increase, but what does this mean to the average domain owner or trader?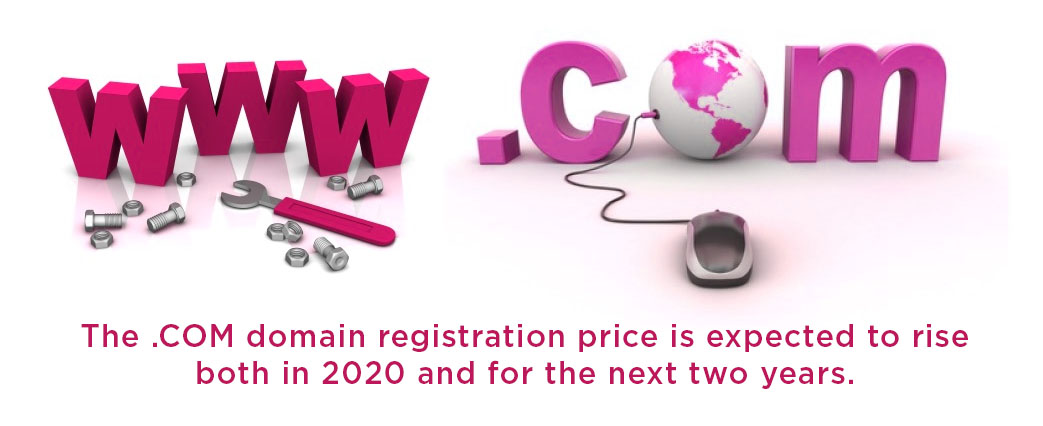 All signs point to a higher cost of long-term holding onto a domain name, which can also lead to domain owners shedding excess .COM domains from their portfolio to cut spendings. This, in turn, can incentify Verisign to continue increasing domain registration year after year.
Domain parking page focus
In the previous decade keyword and some other domains received considerable organic traffic, and if the domain had a parking page with ads it could pay for itself in a way. With domain parking, domainers earn money every time someone lands on one of their domains and clicks an ad.
Especially in 2019, the domain name parking is on the decline and domainers are choosing to sell their domains instead, again, to cut expenses. Many domain owners have removed the ads from their domains and now have a parking page clearly stating that the domains are for sale.
Domain registrars and broker companies have noticed this trend and will now focus to make it easier to create these "for sale" pages for the domain investing. We expect to see even more focus and better options with this in mind in 2020.
Domain investing and trading means competition
We can all agree that finding valuable domains and investing is not that easy, but also it is fun and lucrative which attracts more and more people to this business model.
As more and more people start investing in domains, with more competition in getting good domains at reasonable prices the competition is fierce.
This trend may not be that visible with registering available domains, though the expired domain auctions are the strongest marker for increased domain trading competition as valuable domains reach all-time high prices.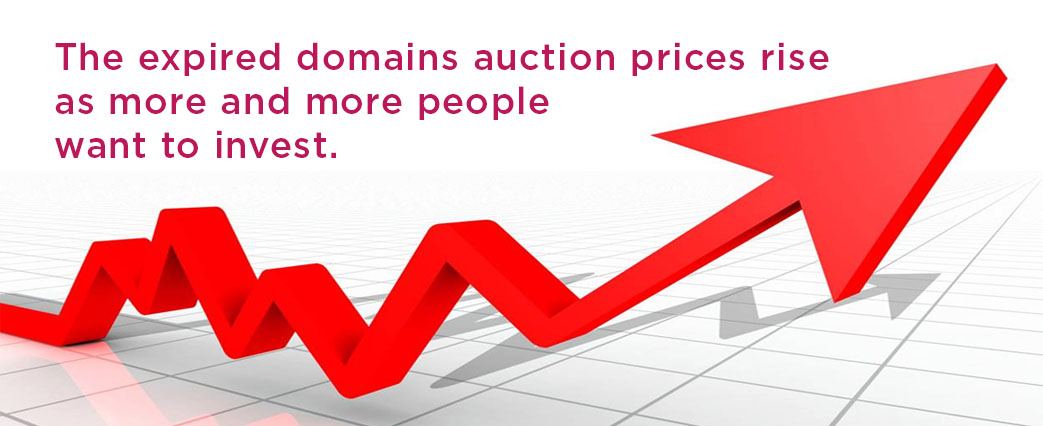 Increased competition will drive more direct calls or emails to owners of valuable domains to see if they will sell them. It might also mean that it takes longer with negotiations to close each deal.
One-word domain value
Judging from last-year statistics, and as expected, the top most valuable domains were .COM one-word domains because they are clear, easy to remember and companies are in love with them.
The fact is, startups and new companies cannot afford to have that perfect one-word domain as the cost for some is enough for a whole year's marketing spending. Instead, they will be satisfied with a somewhat longer, two word, or another gTLD domain, and later when they can afford such high budgets, "upgrade" to an appropriate "perfect" domain.
For many businesses, the .CO and .IO domains have become the go-to choice, and from there many domain traders are investing in these domains.
Conclusion for the domain investing in 2020
Any savvy domain trader will take a look back to see what has worked for him in the past, but will not neglect rising trends that can improve his portfolio.
Do think about your domain portfolio through the lens of the higher cost for renewing domains thanks to price increases, and rethink your trading strategy for 2020 with our suggestions in mind.